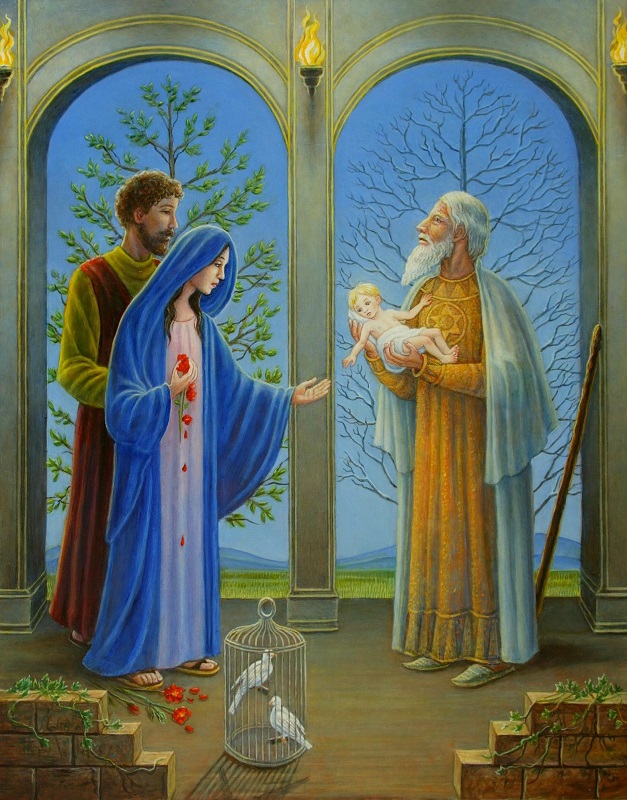 The Presentation of Jesus in the Temple
Oil and Tempera, the Mische Technique, 2005
Collection of Christ the King's Priory, Tororo, Uganda



And when 'the days of purification had been completed' according to the law of Moses they brought him up to Jerusalem to present him to the Lord ... and to offer for sacrifice ... a pair of turtle doves ... And behold, there was in Jerusalem a man named Symeon ... and it had been revealed to him by the Holy Spirit that he should not see death before he had seen the Christ of the Lord. And he came in the spirit to the temple when the parents brought the child Jesus to carry out the custom of the Law in his regard. He himself also received him into his arms and blessed God and said: "Now thou dost dismiss thy servant, O Master, according to thy word, in peace: because mine eyes have seen thy salvation, which thou hast prepared before the face of all the peoples; a light of revelation unto the Gentiles, and of glory for thy people Israel." And his father and mother marvelled at the things that were said concerning him. And Symeon blessed them, and he said unto Mary his mother, "Behold, this child is set for the fall and for the rise of many in Israel, and for a sign that shall be contradicted - yea, and thine own soul a sword shall pierce — that the thoughts of many hearts may be revealed."

— Luke 2:22-35

The painting shows the moment when Mary hears that a sword shall pierce her heart. She is gripped by a terrible fear, but the child reaches out to comfort her. In life sometimes we are given a premonition of our fate, which perhaps makes it easier to bear when the blow falls.